ST.MORITA FARMA CONTRIBUTES TO FIGHT THE SPREAD OF COVID-19 BY CONSISTENTLY PRODUCE SEVERAL HEALTHCARE PRODUCTS SUCH AS HAND SANITIZER, ANTISEPTICS, AND ALSO DISINFECTANT. THE PRODUCTS WERE FORMULATED BASED ON SEVERAL RELIABLE REFERENCES.
The references  reveals that
Hand hygiene is an important part of to prevent the spread of COVID-19. CDC recommends Alcohol-based hand rub (ABHR) is a simple yet effective way  to the reduce the direct and indirect spread of coronaviruses between people. ABHR such as hand sanitizer formulations can inactivate SARS-CoV-2. [1]
A final concentration of 80% ethanol or 75% isopropyl alcohol recommended in the USP hand sanitizer toolkit are aligned with World Health Organization (WHO) formulations. [2]
WHO are recommended by WHO for use in response to an emerging viral pathogen, including viruses that are genetically related to, and with similar physical properties as, the SARS-CoV-2.
Centers For Desease Control and Prevention (CDC) published and articles that SARS-CoV-2 was efficiently inactivated by WHO-recommended formulations with 80% of ethanol , supporting their use in healthcare systems and viral outbreaks. [3,4]
Morita hand sanitizer is ethanol-based product. The research was revealed that ethanol is used worldwide in healthcare facilities for hand rubbing. It has been described to have a stronger and broader virucidal activity compared to propanols. Ethanol at 80% was highly effective against all tested 21 enveloped viruses within 30s. [5]
Scientists in Germany and Switzerland have also tested the sanitizers' effectiveness against SARS-CoV-2. The sanitizer comprises ethanol — 80% by volume and isopropanol (also known as 2-propanol or isopropyl alcohol) — 75% vol/vol. [6]

HOW TO CHOOSE HAND SANITIZER
Choose hand sanitizer with 60-95% alcohol content (WHO recommend 80% alcohol content for ethanol and 75% for isopropanol)
Make sure that hand sanitizer also contain humectant to reduce hand dryness (e.g. glycerol)
Make sure that hand sanitizer pH is in a range of skin pH (4 – 7) to reduce the risk of irritatio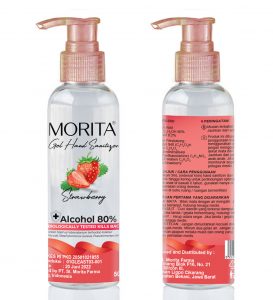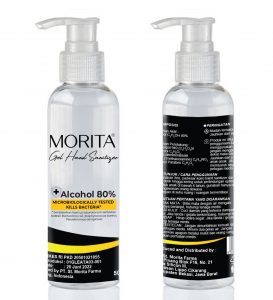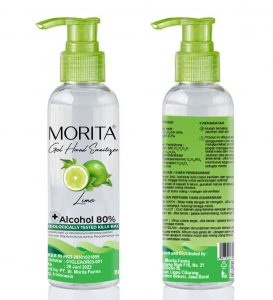 REFERENCES
1.Kratzel A, Todt D, V'kovski P, Steiner S, Gultrom M, Thao TTN, et al. Inactivation of severe acute respiratory syndrome coronavirus 2 by WHO-recommended hand rub formulations and alcohols. Emerg Infect Dis. 2020 Jul
2.https://www.cdc.gov/coronavirus/2019-ncov/hcp/hand-hygiene.html
3.Inactivation of Severe Acute Respiratory Syndrome Coronavirus 2 by WHO-Recommended Hand Rub Formulations and Alcohols, https://wwwnc.cdc.gov/eid/article/26/7/20-0915_article  
4. https://www.who.int/gpsc/5may/Guide_to_Local_Production.pdf?ua=1
5.Kampf, Günter. Efficacy of ethanol against viruses in hand disinfection, Journal of Hospital Infection. 2017. DOI :10.1016/j.jhin.2017.08.025
6. https://www.medicalnewstoday.com/articles/covid-19-hand-sanitizers-inactivate-novel-coronavirus-study-finds#Stocks-running-low